Roami Progressive Mobility Aid, Stair Climbing Walking Frame - Roami: 四合一助行器、姿勢/步態調整輔助工具、輪式助行器和樓梯輔助工具
Product Description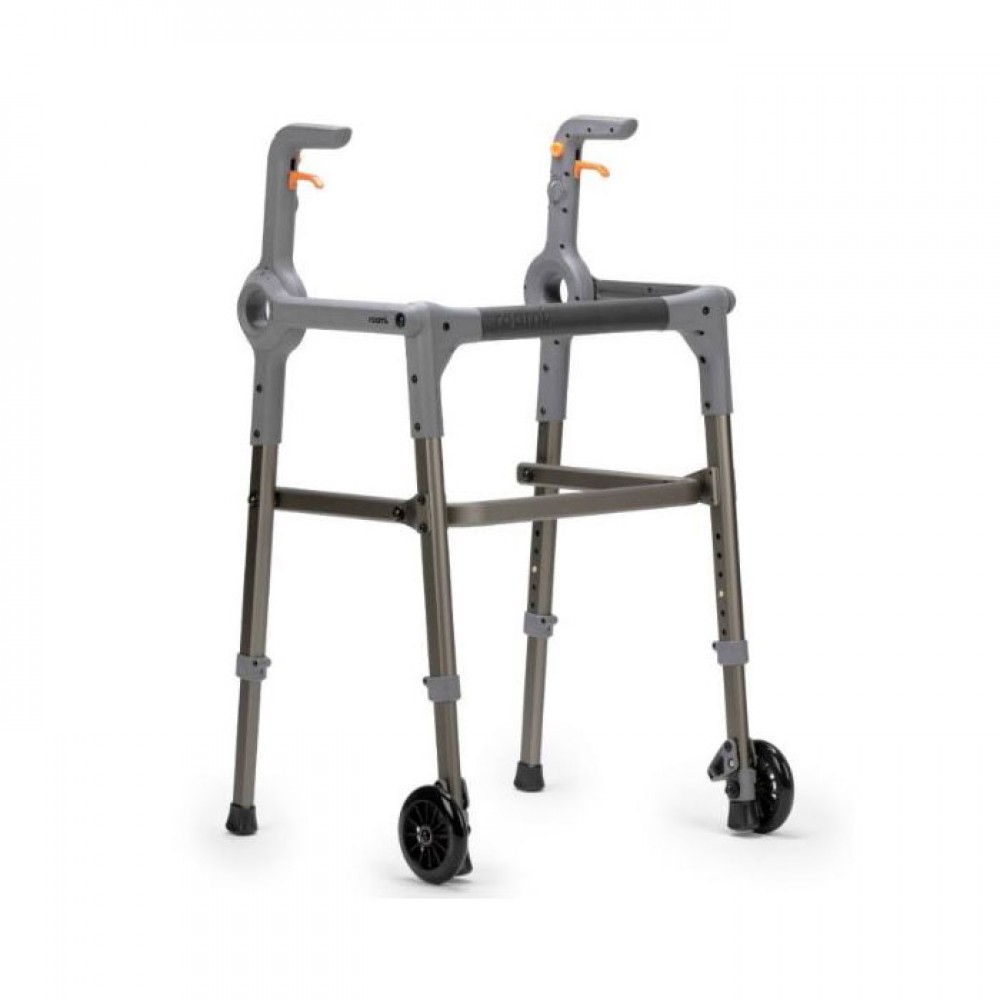 Roami: A 4-in-1 Walker, Posture/Gait Aligning Aid, Wheeled Walker & Stair Assist
Roami serves as a 4-in-1 progressive mobility aid.
1. Walker: Begin with the wheels up for a sturdy walker which is excellent for your patients who are just beginning recovery after surgery and those looking for reliable support. The comfortable, ergonomic handles, and polycarbonate infused, non-slip feet help ensure a durable, safe walking experience.
2. Posture and Gait Alignment Aid: Roami's patented Cam-Lock easily adjusts the angle of the walking frame to help the user keep themselves upright and centered. This makes the user feel more secure as the device better supports balance and proper posture and gait. The angle helps keep users within the walker's frame, making it ideal for users with Parkinson's or others who need extra posture support.
3. Wheeled Walker: Use the spring-loaded foot pedal to deploy the wheels. The walker turns into a mobile wheeled walker, ready for use by those in rehabilitation who are ready to walk longer distances at a faster pace. The simple pedal makes it easy to transition between the walker and wheeled walker as needed.
4. Stair Assist: When the wheels are up, Roami can also be used as a stair assist due to its level-adjusting technology. Roami can be adjusted to use on the stairs, thresholds, or curbs, restoring independence for users who need help to access their homes. The safety buttons ensure that the frame remains locked until the user intends to adjust it. Your patients will learn that it's quick and easy to adjust Roami, so they can use it for support as they climb the stairs.
This progressive mobility aid not only adapts to the user's needs, providing a life without limitations, but also restores dignity with a stylish, trendy mobility aid!
Who should use Roami?
Roami is the perfect companion for a variety of users. Because it is a 4-in-1 device, Roami is helpful for people who are recovering from injury or surgery that impacts their ability to walk independently. This single device can be utilized in different ways as the user regains strength, adapting to their increasing independence.
It is also safe for cognitively-sound elderly users who need support and is helpful for people with chronic ailments that impede their walking abilities. Roami adjusts to become the mobility tool your patients need for each specific day.
It's a great mobility aid choice for amputees who need support while walking. Roami's ability to help with gait alignment also makes it excellent for users who are challenged with balance issues, such as Parkinson's patients.
Where can Roami be used?
Due to the on-the-fly capability to transition from walker to rollator, Roami is designed for easy ambulation on a variety of surfaces/terrains. Use indoors on tile, carpet, and hardwood and outdoors on gravel, grass, and pavement. When the wheels are up, the Roami progressive mobility aid can be used to help the user go up and down stairs, curbs, slopes, and thresholds.
What makes Roami unique compared to a standard walker?
Roami is the first progressive mobility aid that can adapt to fit the needs of the user. It can easily be alternated between a walker and a wheeled walker, and used on steps and sloping surfaces. It can even help your patient with proper posture and vertical alignment. Roami is designed to help users live independently.
Why Clinicians Choose Roami for Their Patients
Physical therapist, Dr. Contreras, shares why he likes Roami:
"Finally, a mobility aid that fits the needs of a broad spectrum of individuals -- from youth athletes to joint replacement patients to wounded warriors and veterans. The ability to have a walker that works on an incline, decline, and stairs will truly enable so many people to move throughout their homes and communities without the limitations experienced with a standard walker. You don't have to leave it behind -- it will traverse the terrain with you so whether at the top or bottom you will no longer need assistance to move independently.
"Roami breaks all of the negative stereotypes often associated with a walker/rollator. The numerous innovations and sleek design provide you with the ultimate mobility solution and preserves your independence with the confidence and dignity you deserve. You no longer have to avoid or limit your daily adventures due to overly challenging obstacles such as inclines, declines, and stairs. Welcome back to life without limitations."
DR. ANDREW CONTRERAS, PT, DPT, SCS, CMTPT, LIEUTENANT COLONEL (RETIRED), US ARMY and the first full time physical therapist at the White House under the 2010-2017 administration.
Roami: 四合一助行器、姿勢/步態調整輔助工具、輪式助行器和樓梯輔助工具
Roami是一種四合一的漸進式移動輔助工具。
1. 助行器:輪向上收起,Roami便成爲一款堅固的助行器,非常適合術後恢復和尋求身體行走支撐輔助的人群。把手舒適的且符合人體工程學,助行器聚碳酸酯註入的防滑底有助於持久、安全的行走體驗。
2. 姿勢和步態調整的輔助工具:Roami的專利Cam-Lock可以輕松地調整步行架的角度,幫助用戶保持直立姿勢和居中位置。這使用戶有更加穩固安全的行走體驗,因為該設備更好地支持平衡和正確的姿勢和步態。該角度有助於將用戶保持在助行器的框架範圍內,使其成為帕金森癥患者與其他需要額外身體支撐的人群的理想選擇。
3. 輪式助行器:使用帶有彈簧的腳踏板來展開車輪。該助行器變成了一個移動的輪式助行器,可供那些準備以更快速度走更遠距離的康復人群使用。簡單的踏板使得在需要時在普通助行器和輪式助行器之間的轉換變得容易。
4. 樓梯輔助:當車輪升起時,由於采用了水平調整技術,Roami還可以作為樓梯輔助工具使用。可以對Roami進行調整,以便在樓梯、門檻或路邊使用,使回家需要額外幫助的人群恢復獨立性。安全按鈕確保框架保持鎖定,直到用戶打算調整它。您的病人會了解到,調整Roami快速而簡單,因此他們可以在爬樓梯時使用它作為支撐。
這種漸進式助行器不僅可以適應用戶的需求,提供沒有限製的生活,而且還可以通過時尚、新潮的助行器恢復自信!
誰應該使用Roami?
Roami是各種人群的完美伴侶。因為它是一個四合一設備,Roami術後康復並在訓練行走能力。這個獨特的設備可以讓您的病人以不同的方式使用它,以鍛煉您的病人的出行獨立性。
它對需要身體支撐的老年用戶也是安全的,對有慢性疾病阻礙其行走能力的人也有幫助。Roami可以調整成為人們每天所需要的移動工具。
對於在行走時需要支持的截肢者來說,它是一個很好的移動輔助選擇。Roami能夠幫助調整步態,這也使得它非常適合有平衡問題的用戶,例如帕金森病患者。
Roami可以在哪裏使用?
由於Roami具有從助行器過渡到滾輪的瞬間切換功能,因此它可以在各種表面/地形上輕松行走。在室內的瓷磚、地毯和硬木上使用,在室外的碎石、草地和路面上使用。當車輪升起時,Roami漸進式助行器可以用來幫助用戶上下樓梯、路邊、斜坡和門檻。
與標準助行器相比,Roami有什麽獨特之處?
Roami是第一個可以適應用戶需求的漸進式助行器。它可以很容易地在助行器和輪式助行器之間交替使用,並在臺階和傾斜的表面上使用。它甚至可以幫助您的病人保持正確的姿勢和身體骨骼排列。Roami的設計旨在幫助用戶獨立生活。
為什麽臨床醫生為他們的病人選擇Roami?
物理治療師Contreras博士分享了他喜歡Roami的原因。
"現在終於有了適合各種人需求的助行器 -- 從青年運動員到關節置換病人,再到受傷的戰士和退伍軍人。能夠擁有一個在傾斜、上升,下降和樓梯上工作的助行器,將真正使許多人能夠在他們的家庭和社區中自由行走,而不像標準助行器那樣受到限製。你不必把它留在後面 -- 它將與你一起穿越各種地形,因此無論在頂部還是底部,你都不再需要出行援助。
"Roami打破了通常與助行器/滾輪車相關的所有負面定型觀念。眾多的創新和時尚的設計為您提供了最終的移動解決方案,並以您應有的自信和尊嚴保留了您的獨立性。你不再需要因為坡度、坡度和樓梯等過於具有挑戰性的障礙而避免或限製你的日常行走。歡迎回到沒有限製的生活"。
| | | |
| --- | --- | --- |
| 7102813 | Roami Progressive Mobility Aid – Wheeled, Red - Roami漸進式助行器,輪式,紅色款 | HKD1600.00 |
| 7102815 | Roami Progressive Mobility Aid – Wheeled, Charcoal Gray - Roami漸進式助行器,輪式,碳灰款 | HKD1600.00 |
When you order from google.com, you will receive a confirmation email. Once your order is shipped, you will be emailed the tracking information for your order's shipment. You can choose your preferred shipping method on the Order Information page during the checkout process.
The total time it takes to receive your order is shown below:
The total delivery time is calculated from the time your order is placed until the time it is delivered to you. Total delivery time is broken down into processing time and shipping time.
Processing time: The time it takes to prepare your item(s) to ship from our warehouse. This includes preparing your items, performing quality checks, and packing for shipment.
Shipping time: The time for your item(s) to tarvel from our warehouse to your destination.
Shipping from your local warehouse is significantly faster. Some charges may apply.

In addition, the transit time depends on where you're located and where your package comes from. If you want to know more information, please contact the customer service. We will settle your problem as soon as possible. Enjoy shopping!